Welcome to Week 3 of the 2020 Rainbow Scrap Challenge!! How is that even a thing? The THIRD week of the new decade is in the books! What do YOU have to show for it?
Here's what happened in my sewing room...
SUNDAY - This morning, I released a new

Sew Some Love Sunday

post. Here is the beginnings of the block that I will send to Kat at

Covered in Love

:
Not long before lunch, I released my very first

Project QUILTING

post. Here is a taste of what you will see, if you decide to click over to see my "quilted squirrel" which could easily be counted toward Julie's

Squirrel Club for Quilters

:
Late this afternoon, I finished my block for the annual

CiL String Block Drive

:
Ignore the piles of fabric everywhere. DS1 and I are in the process of working on some organizing, purging, and creating additional storage solutions. He is QUITE the task master!! (I'll trim the block and mail it off soon. Those of you who know my aversion to the post office will expect SOON to be later that others might expect, but I'll mail it off to Kat... eventually.)
MONDAY - It's time for another

Mail Call Monday

post. The dregs of Christmas need to have their moment here on the blog. I truly mean no offense to the friends who shared these gifts with me. Go have a look at the usable makes from my crafty friends!
Tonight was Quilt Guild. I didn't think that I would be able to attend (since I had a bit of car trouble this morning.) On the evening's agenda...
Sign-ups opened for the Goodnight, Darlene! class with Kevin the Quilter. Look who is at the TOP of the list...
OK, so you may not be able to read the name, but I was SEW excited that I forgot to focus and check the picture. (You know that's my hand! It only makes sense that it's me!)
... AND...
... The annual Silent Auction. After taking the photo above, I race off to see what goodies were on the auction block.
Well folks, I hit the motherload!!! You can be sure to hear about that in another post. You can wait until next week for that. Right?
TUESDAY - The big announcement at Guild last night... members donated a total of 417 charity quilts turned in during 2019. This, from a membership of just over 100 quilters! Here are last night's contributions to begin our count for 2020:
The quilts can be seen along the rail behind our current Guild President, as she explains the "rules" for our Silent Auction.
WEDNESDAY - This morning I headed to Knit Group. The abbreviated version. This afternoon, I released a new

Wonderful Wednesday

post. It tells of my recent use of some Light /Bright Green scraps and there are PLENTY more where those came from!
An entire cubbie of fabric chunks await the chopping block:
THURSDAY - My Weekly Quilt Group met without me today. I was there in spirit, as I finished up the blog post from a recent meeting and released it this afternoon.
And for your viewing pleasure...
Here is a section of this month's Gallery Wire in my studio. Winter has returned after our week of Spring-like weather. Frosty and the other small quilts have bits of Light/Bright GREEN to honor January's Color of the Month for the

Rainbow Scrap Challenge

:
FRIDAY
- Today brought with it Bonnie's BIG reveal!!! Find Part 9 of her Frolic Mystery
HERE
. I've got plans for this evening.
SEW...
There will be no frolicking on my agenda! I'm off to the monthly meeting of Friday Night Sew-In and I plan to make progress on my niece's wedding quilt. There are some Light/Bright GREEN fabric selections which will meet my rotary cutter and, if I'm lucky, they will also have a date with my

Sizzix Die Cutter

: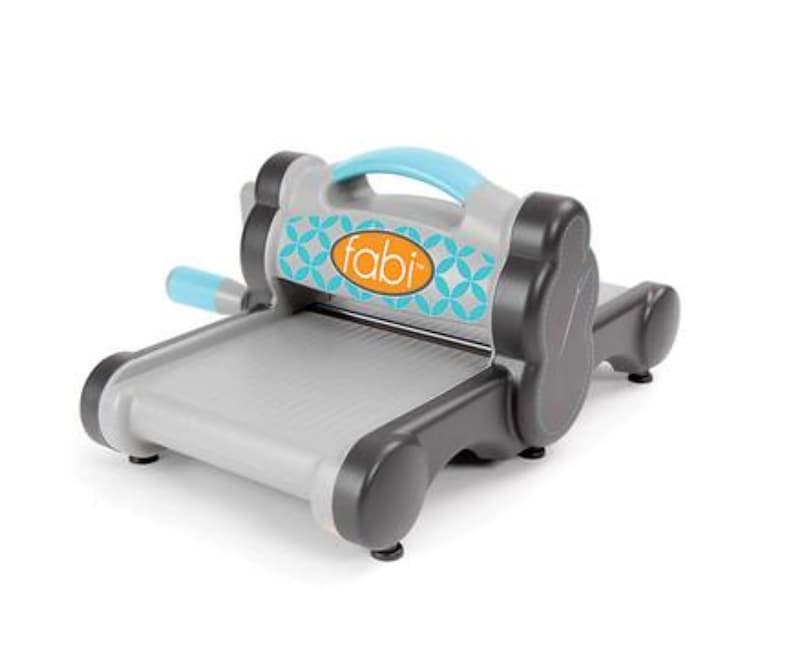 I found this stock photo of a cutter like mine available for $122.83 on Etsy. The one I use only cost $15 at the Guild Silent Auction a few years ago! For that price, I don't feel guilty of the infrequent use. (I'll share my progress next week.)
SATURDAY - It's

LINK PARTY

day! Angela's

So Scrappy

blog is the place to be. Check out the RSC Quilters who shared their scrappy work for the week. I'll join you after my next cup of tea.
This afternoon, there will STILL be
no frolicking, as DS1 came to help with the excavation of the studio.
I definitely have mixed emotions about that. Help is nice, but help can be overwhelming.
Until next time...
Get Scrappy!!!