Welcome to Week 48 of the Rainbow Scrap Challenge!! As RSC19 comes to a close, be watching out for finishes galore. Just not in my sewing room! Although, I am still hoping to complete one last Jumbo Scrap Basket for the year.
Let's see how the last week of November panned out...
SUNDAY - Taking it easy today. Mt. Washmore was but a mole hill this week. Lucky thing, since I have managed to catch the crud! Coughing and hacking took pride of place on my list of things to do today. I'm medicated and hoping to recover quickly.
MONDAY - An update on Bonnie Hunter's Frolic Mystery from her blog...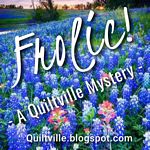 ... Concerning the Mystery Monday Link-Up for this year:
"But since it became hard to participate in the linky, or people just didn't want to fill out forms the first time they participate, I have made the executive decision to link up through hashtags on
Instagram
only."
I don't really DO Instagram. I know a LOT of people do! IF there is time for me to quilt along, I guess I'll have to figure out what went wrong with my account. Sigh...
TUESDAY - It was Bee night. I took my computer to work on the Bee blog post...
... And took notebooks to draw out a few patterns:
Photo Not Currently Available!!!
Too bad I forgot what I was going to draw between home and the meeting place!!! Ugh! A mind is a terrible thing to lose. :o((
WEDNESDAY - The day before Thanksgiving found me taking a trip to Raleigh to deliver my Pfaff back to the repair guy for another try at fixing my machine (since the first time left it noisier than when I dropped it off.)
Thank you, Matt and Amanda, for allowing me to use one of your classroom machines to complete a sewing task that has been stalled in my studio. I depend on my Pfaff's built-in walking foot. I'm hopeless without it!
It's also Pie Day
in BasketLand
- not to be confused with Pi Day!! LOL!!! Pumpkin Pie Day to be exact. It's a family favorite (and I needed to redeem myself after last year's Great Pie Fiasco.)
Note: For those of you who do not know, Pumpkin Pie Mix is NOT the same as Solid Pack Pumpkin!!! We ended up trashing the majority of last year's pie made from the offending mix. :o((
THURSDAY - Got up early to prepare our family's Thanksgiving feast. Here's hoping that YOU have (had) a happy! Whether with family or friends or alone with your sewing machine. (Honestly, the latter sounds somewhat delicious.)
FRIDAY - Bonnie Hunter released Part 1 of her Frolic Mystery. Off to check the scrap stores up in the studio...
... But first, I needed to load this client quilt:
Also, choose a thread color to prepare for quilting:
Then...
I had a brilliant idea about what I might use for my Frolic Mystery!! Which led to digging out this bag:
What was in the bag, Joyful???
It was filled with the remnants of my very first BH Mystery:
After taking stock...
And comparing my fabrics to Bonnie's list of requirements, I realized that if the yellow fabrics were removed and the colors reassigned, I would have just what I needed for this year's quilt:
SATURDAY - It's the final LINK PARTY of November! Head over to Angela's So Scrappy blog to see what new rainbow finishes have occurred this week.
Until next time...
Get SCRAPPY!!!