Welcome to another edition of Tidy Up Tuesday!!
Today, I am tying up loose ends on a post that has been in the works for more than a month. I'd say that fits the theme. Read on for further the details.
An Invitation...
Benita from Victoriana Quilt Designs (
who blogs at Benita Skinner's Creative Space) had plans to host a Meet & Greet during the month of September. She was kind enough to extend not one, but TWO invitations for me to participate.
Upon the first invitation, I checked her blog and promptly got involved in finishing my latest commission quilt. When the second invitation email arrived, I started making excuses as to why I couldn't participate (before seeing them for what they were.)
Excuses!
Well, after suggesting that the timing wouldn't work for me and blaming the wedding quilt needing to be done just days before the event, I realized just how much time I had to prepare for the event... More than a MONTH!!! Surely, I could write a post in that amount of time, couldn't I?
Yes. The answer is YES! I decided that I certainly COULD.
Participation in Benita's Meet & Greet could be fun. Especially, since I'd never had an opportunity like this. First, a plan was formed. I would write the post ahead of time and work on the wedding quilt at a Sew Saturday coming up soon. The post was started that very day!
The requirements...
Share what you like about quilting:
I enjoy playing with fabric, spending time with my quilting friends (in-person and online), capturing memories in the form of T-shirt quilts, learning to "drive" my (still) new-to-me longarm, and using scraps to the very last inch.
Pictures of your past quilt favorites:
My favorite quilts aren't necessarily quilts, at all. Take this stack of mini quilts, for example:
Another of my favorite "quilts" was transformed into a quilted bowl for a dear friend:
I'm also particularly fond of this little surprise...
... Which began as one of those "what if??" moments and turned out to be a quilted mug rug for an exchange:
That brings me to my most favorite quilted jacket, which started life as a quilt, but got cut into pattern pieces:
My favorite batik quilt was a tiny bag of scraps...
... That grew into a small pin cushion for an online swap:
LOOK!! It's an actual quilt! Well, quilt top in the photo below, if you want to get technical. It turned out to be my first ever finish for the Rainbow Scrap Challenge!! However, it no longer belongs to me. I love this quilt so much that I'm making another for myself:
Even though you may not be able to see the quilting in this picture, it was my very first custom quilting job completed (for myself) on my (then) new-to-me longarm quilting machine:
Just to prove that I don't ONLY like scrap quilts, this 12 year old UFO was finished using my favorite giant template board:
And, while this quilt may appear to be scrappy, it was made using a selection of fabrics collected over time. When I made this king sized behemoth, it was the largest quilt I had ever pieced:
Say hello to new visitors, invite them to browse, and follow:
Hi there! (Picture me waving wildly.)
Thanks for dropping by my little part of the blogosphere. Take your time to look around.
I blog about all things "quilty" (along with a
tiny
bit of knitting.) I'm participating in the Rainbow Scrap Challenge, joining in the Scrap Attack Challenge, and I have occasionally been found linking up with Oh Scrap! due to my love of all things scrappy.
You are welcome to follow me, if you'd like.
You will find that I'm not a "hard core" blogger. I tend to use my blog as an online quilt journal. A typical week will see me release one to three posts. They are generally quilt related. Although, there is a bit of "life stuff" thrown in for good measure.
Already a follower here? Head over to the main page to find some new quilt blogs that you may not have visited before:
Benita gathered quite a selection of bloggers for you. Who knows? You just might find you new favorite blog!!
Did I mention there is a prize?!?!
Follow
THIS LINK
for a chance to win a "Great Grand Prize".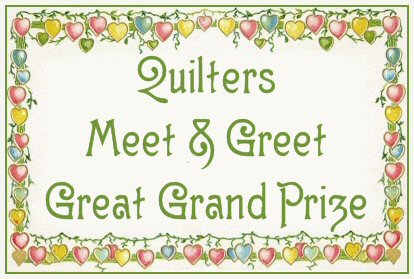 Click on the words THIS LINK seen above the prize entry logo!!!
Benita has promised a selection of fabrics and maybe more.
I'm hosting a
PRIZE
for my readers, too!!
Sorry! Contest is CLOSED!!!
I'm offering a Custom Mug Rug (
in the colors of your choice
) for ONE lucky winner. If that is YOU, I will create a one of a kind mini quilt using my fabric scraps.
This prize is for NEW readers and current followers, as well as random readers. I will draw a name (at random) from those who leave a comment on this post by 8PM (EDT) on October 1, 2018. If you are a NO REPLY blogger, please leave an email address to contact you, in the event that you are my lucky winner.
Linking up with:
Until next time...
Thanks for stopping by!!!